Friday 14th August. 7 am
The newspaper has information gleaned overnight from school letters and emails. There has been spread of the virus beyond South Auckland to the North Shore.
Cabinet will meet today at 3 pm. There will be a press conference at 5:30 pm to inform the country of what level of alert we will be at. The conversations this morning have been around how we should prepare. Kea yesterday acquired all the materials (or organized for delivery today) for her next project — one that I intended to get done for her at the end of the month while we had a holiday. However, if we go into lockdown, she will enjoy doing that herself, and my leave will have to be cancelled.
A comment from the Aussies today.
The reforms that come out of #CovidCrisis2020 should not be limited to economic reforms only. There needs to be significant structural reforms, ie democratic reforms, such that government does what it is supposed to do rather than the stuff our politicians like to do. Using the banking analogy, make government basic again.

Recall elections. Citizen initiated referenda. Federation reform. The end of horizontal fiscal equalisation.

There needs to be a mechanism to remove a corrupt or incompetent or combined corrupt/incompetent government without having to wait the requisite 3 to 4 years for an election. Governors and Governors General won't do it. Citizens would if they could.

There needs to be a better mechanism. If your house is on fire, you should not be required to count to 1,000 before calling the fire department.
Radio NZ this morning. David Skegg is an epidemiologist, with a world wide reputation. Phil Goff is the mayor of Auckland: this is a transcript of the live stream of Morning Report.
Professor Sir David Skegg tells Morning Report he'd be "very surprised" if current restrictions aren't extended, if not increased.
Sir David says we will be very lucky if it hasn't spread to other parts of the country. He says he's shocked at how inadequate testing at the border was. New reports show many frontline staff hadn't been tested.
Sir David says it's "absolutely vital" we be testing frontline border workers if we want to achieve elimination.
He says he's confident we will eliminate Covid-19 again and we're in a much better position now than we were the first time we did it.
He says the theory that the virus might have come in from cold storage is a "long shot" but worth investigating.
Sir David says the Covid tracer app is far from perfect, but it's the best thing we've got.
He says what has let us down is complacency after our first elimination of the virus.
"We've acted as if we're bullet proof," he says.
However, he's very confident we will knock it out again.
"I hope we learn from this mistake and can get over it very quickly," Sir David says.
"Complacency is one of our national characteristics, sadly."He says we need to make masks available to all New Zealanders.

Phil Goff joins Morning Report and says he's also raised concerns about the borders.Goff says he assumed testing would be regular for frontline border staff.
"It's a matter of common sense that those working in quarantine and at the border are getting tested."
In the meantime, the Minister of Health, Chris Hipkins, says that we won't be heading to full lockdown.
A full level-4 lockdown is "not in frame" right now despite additional cases of Covid-19, all linked to the existing Auckland cluster of 17, Health Minister Chris Hipkins said today.

As Cabinet meets this afternoon to decide New Zealand's ongoing Covid response, a level-4 lockdown is not in the frame right now, Hipkins told Newstalk ZB's Mike Hosking.

"All of the evidence suggest it's still the one cluster. Obviously we release the new number at 1pm. There have been some additional cases and we will release those at 1pm today. Yes, all of the cases so far remain connected. That is very encouraging but obviously we haven't identified the point of origin.

"Level 4 is not in frame at the moment. You would need to see a number of different clusters and a number of different isolated cases before you make a decision along those lines. There is nothing like that in the frame at this point."
I will update as I can through the day.
Friday, 3 PM.
1300: Press conference, Minister of Health, Chris Hipkins and Director General Ashley Bloomfield.
There are now a total of 48 active cases, with 30 linked to the community outbreak. The total number of confirmed cases of Covid-19 in New Zealand is now 1251.

Two of the 13 new cases are in Tokoroa.

"These two people tested positive after being followed up as close contacts from a family member who is one of the Auckland cases, so part of that Auckland cluster," Dr Bloomfield said.

He said 12 of the 13 new cases had already been linked to existing cases and to the Auckland cluster. The 13th case is in hospital and the link is still under investigation.

Dr Bloomfield said 38 people linked to the cluster were already in the Auckland quarantine facility and this included the cases and household members.

Although he was not pleased about the situation, he was pleased additional cases were being identified, he said. He expected the numbers in the Auckland cluster to grow.

Minister of health Chris Hipkins said it was "good news" that so far all the cases Dr Bloomfield mentioned were connected and part of one cluster.

"We've seen no evidence of a Covid-19 positive test outside of Auckland which is unrelated to the cluster we're dealing with. But we are not out of the woods yet."
Commentary from David Farrar, who spends most of his day working for a pollster.
Mandatory testing of front line staff is not heavy handed.

Closing down almost every business in auckland is heavy handed.

Closing down the schools is heavy handed.

Banning groups of more than ten is heavy handed.

All of these heavy handed things could probably have been avoided if the Government was testing frontline staff weekly – which they were told they should be doing.

They made a deliberate decision not to test all front line staff. It was the wrong decision, and now businesses and families are paying the price.
The number of people I've interacted who really, truly don't want to go back to social distancing is significant. Let's hope that we are not paying that price.
Here comes the political fallout: for the overseas people we have seven Maori only seats, and the Maori party contests these (all currently held by Labour).
Māori party co-leader John Tamihere said the borders should be closed for the next two weeks, even to whānau trying to return to New Zealand.

He said Auckland's borders should have been shut down immediately when the Prime Minister made her announcement on Tuesday to stop the "thousands of people" who then exited the city.

"They're going home to our hau kainga's and at home there is not enough primary care let alone testing kits so we have to move quite quickly to protect our vulnerable communities."

Co-leader Debbie Ngarewa-Packer said they needed to take swift action as the second wave was already coming into Māori communities.

"We are demanding that we go into level 4 … because we are concerned and we are worried at the emerging outbreak and the aggression of this virus and the way it is coming for our whānau."

The Māori Party is also calling for the election to be postponed until next year.

Tamihere said Prime Minister Jacinda Ardern must form a Wartime Cabinet.
It appears that Pakuranga College was told they had a case and that was deemed an error. The local MP, Simeon Brown, was livid. The Twitter stream is moving from feral to toxic.
Saturday Morning
Last night we all got home and watched the press conference.The PM read a speech. The advice they had was that all the people within the community were in one cluster. They considered that keeping the same level of social distancing going for the next 12 days until August 28 was appropriate, but they would review it on August 21. This worried Casa Weka. We have plans for the week onf August 21 to 28: I need a break and so does Kea and we were hearing the Rrime Minister say that "we have beaten COVID once and we can do it again". The last thing on the news last night was that a Rarotongan Doctor has COVID 19 and can't fly home. There is a hope that he's been contacted by this cluster, but his surgery is 4 km from where the workplace with the most cases is.
I'm bleaker than that. I reminded me of Knut (King Canute) sarcastically decreeing that the tide could not move.
This morning:
A student at the University of Auckland has tested positive for Covid-19.

Vice-Chancellor Professor Dawn Freshwater said the risk to staff and other students was believed to be low as the student hadn't been on campus since the end of July and doesn't live in student accommodation.

Freshwater said the University had detailed contingency plans in place to respond to different situations that may arise as a result of Covid-19.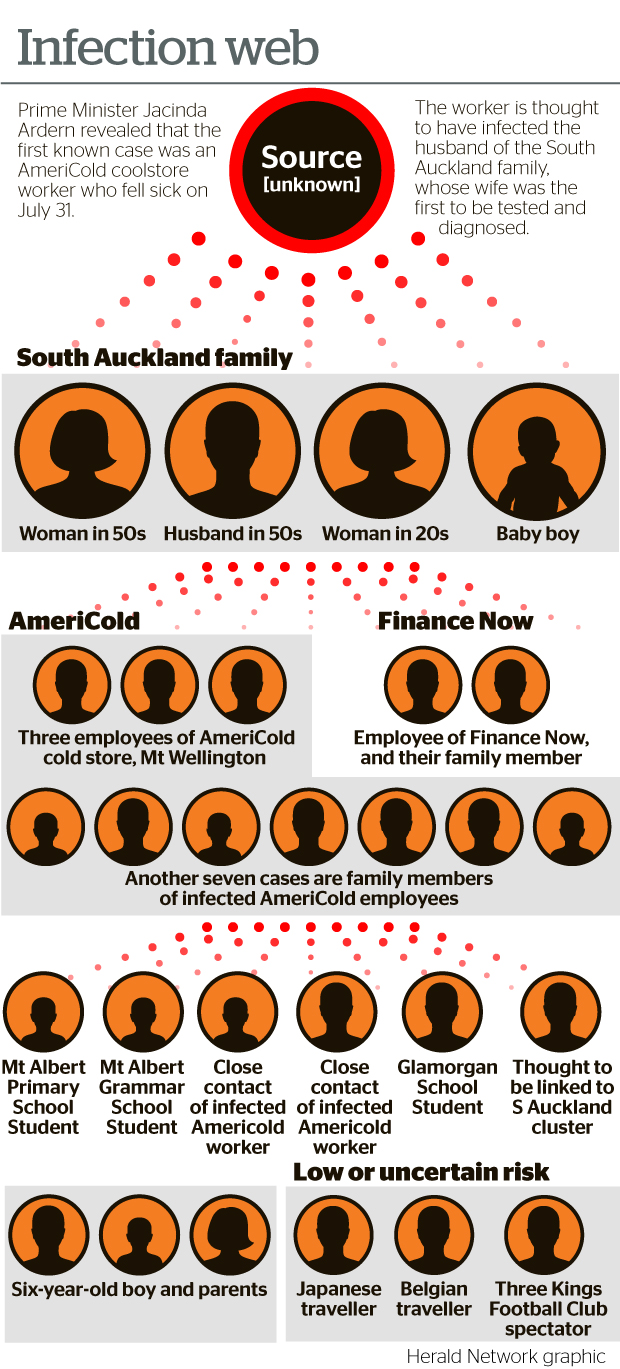 The bloggers are now fairly mistrustful. It appears only a third of the front line workers at the border were tested.
Well, the Government hasn't sorted it, and that's entirely on the Prime Minister. She's failed in the most catastrophic way.

It is beyond belief that those working in and around the border and isolation facilities haven't been tested at all.

This is negligence in the extreme. I'll just bet the bus drivers that carted them around likewise have never been tested.

What is the government going to say when it is revealed that people in isolation were flown around the country in planes with healthy people who were just going about their business as normal?

What are they going to say about people in isolation shopping at Greenlane Countdown and visiting local cafes because they were vegan?

The Government, far from being competent, are in fact an omnishambles, and as more information comes to light, the wisdom of fighting an election campaign on COVID will seem rather rash.

The "Covid Queen", it appears, has no clothes.
It looks like the opposisiton are going to demand that the election is delayed, and this has happened elsewhere. For some reasonable reasons. , and yes it can happen if 75% of MPs vote for it.