Kea noted this morning that no one knows how the election will happen. The events are coming thick and fast. The probable loss of the rugby tests to Australia is bigger than one thinks.
Around the traps
Yesterday the Government decided to announce that there will be an extension of the current social distancing rules for another week. The team is breaking down and there is dissent.
There is an election on. It does concentrate the Politicians mind.
National leader Judith Collins says South Islanders have had enough and slammed the Government's decision to extend alert level 2 restrictions for the island another week.
It comes after Prime Minister Jacinda Ardern signalled today in Dunedin an easing of restrictions next week – including bigger gatherings in Auckland and level 1 freedoms for the rest of the country – if cases continue to track down as they have been.
My reaction is phlegmatic. I have not seen my family in Auckland since February and the planned meet ups this month will not happen because some of them are in their late eighties. We have lost one elder this year — but that was from a bacterial pneumonia. Our death rate from the COVID is about the same as from any other viral illness, and hits the vulnerable as the influenza does.
Our way of coping is to ignore the rules and get on with it. We are Kiwis. We are not descended from Prison officers.
But Australia is, and last night the images of the cops beating up protesters and then justifying it were frightening. There is no real opposition over there. The elections were last year, and the politicians think they have power for a month or a year, which forthem is eternity. And they like it.
Some say they are evil: I think they have a politicized and stupid public service.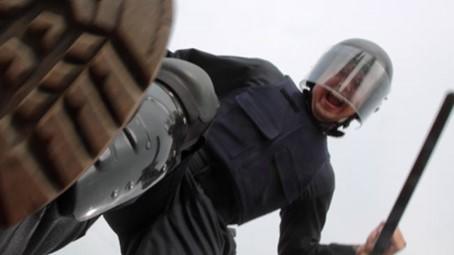 I can agree with most of that but not all. They are far-left totalitarians, psychopaths perhaps, but on that last point, I don't agree even slightly. When it comes to Daniel Andrews, on top of everything else, he really is stupid. Along with so much else that is wrong with him, Daniel Andrews is the thickest, densest politician I have ever come across, and there's a lot of competition specially at the moment. That he never discusses or explains anything is how he has been from the start. This was from the weekend: Labor unrest grows as Daniel Andrews botches crisis management. In fact, Daniel Andrews has botched every single thing he has done. He has not had a single success in anything he has done since becoming premier. Try to find anything he has achieved with all the billions he has gone through. Victoria was already bankrupt even before the virus arrived. Dwell on this from the link.

Steve Kates, Catallaxy
The copse are getting Brutal in Melbourne.
The father of a mentally ill man who was stomped on the head by police while being arrested at Epping says his son is now in a coma as a result of the incident.

An internal Victoria Police investigation is now underway after disturbing video emerged online of the arrest.

It shows six police officers pinning the man to the ground before one of them stomps of the man's head.

His distraught father rang Neil Mitchell on Monday, demanding the officer lose his job.

"I couldn't sleep last night, I was so upset," he told Neil Mitchell.

"It's disgusting."

He said his son was bi-polar and was in the hospital on Sunday waiting to see a doctor, but they didn't have a bed.

He then bumped into a friend and went outside, when the incident unfolded.

"The police had no right to do what they did," he said.
Victorian police stomped on the head of a mentally-ill man in Epping, and he's now in a coma.

Andrews: "all this can be avoided if people don't protest." pic.twitter.com/YAu64cO5mz

— Melbourne Prisoner 🇦🇺 (@melbprisoner) September 14, 2020
The coming inadvertent economic fallout
The current rental regulations require warm houses (insulated, which costs: heat pump or green heating, which costs more). Being a landlord is a business, and the new regulations indicate that tenants not paying rents and being antisocial require two or three events before one can evict.
This means that Landlords are going to be fussier in whom they allow to rent their house. And they will want higher returns. The woke are worried. I expect a lot of pain in late September, before the elections.
The government announced a six-month freeze of rent increases on 26 March, it was a measure put in place to protect tenants during the Covid-19 pandemic.

However, some tenants have been served early notices, in anticipation of the freeze ending.

Zoe*, who rents a one-bedroom studio in Wellington, is one of them.

She recently lost her job through Covid-19 and is also partially sighted.

Her disability benefit, which is her entire weekly income, is $500.

With the renewal of her lease in August, a notice also came that her rent would jump by $40 a week, starting from the day the rent freeze ends – 25 September.

That brings her rent up to $370 a week – 75 percent of her total income.

"I was devastated, obviously, because $330 is already a lot, and it was on the precipice of me not being able to pay even that."

She responded to the notice, asking that the landlord reconsider, given her personal situation as well as the state of the unit, which is damp and mouldy.

No work has been done on the property, during the time she's lived there, she said.

The property management company replied, saying they were sorry to hear about her circumstances, but that the landlord needed a better return on his property.

They then asked whether she had tried running a dehumidifier "constantly".

Because of her disability, Zoe needs housing that is appropriate for her needs and can accommodate her guide dog.

She looked for other places in Wellington, but nothing was suitable.

So, she's been forced to accept the increase.

"It's kind of evil, honestly and it's very cynical that they've done it as soon as they possibly could."

Last month, the Commerce Commission fired a warning shot at property investors found discussing plans to increase rents, en masse, in online forums.

There were discussions about the whole industry upping rents the day after the rent freeze ends, on 26 September.

The Commission's chair Anna Rawlings said the investors were at risk of breaching the Commerce Act, and warning letters were sent to representatives in the industry.

"Landlords need to be aware that they can be in competition with one another for the supply of rental properties and they can be carrying out a business in supply for properties.

"As a result, they are subject to the provisions of competition law and consumer protection laws. They should make sure they're aware of their obligations and ensure they comply with them," she said.
This is going to end badly.
Bugger the pollsters
The above phrase is attributed to Jim Bolger, who was riding high in the polls but on election night appeared to be losing power. There are assumptions about polling, and they can bite. When we get called, we impolitely refuse to participate.
In 2020, commentators and journalists have dismissed the possibility of a National victory. The received wisdom is that most voters have now made up their minds and the next month is unlikely to see much change in public opinion. But this overlooks the number of undecided and wavering voters. In the 2017 NZ Election Study, for example, around 20 percent reported making up their minds during the final week (including election day itself).

In the last Colmar Brunton poll, 10 percent of the respondents said they were undecided and 4 percent refused to answer. The headline results (e.g. Labour 53 percent) are calculated by excluding those respondents who either "don't know" or refuse to say. If we did include the undecideds in the base of the calculation for party support then Labour would be on 47 percent. Those undecided voters could at least determine whether or not Labour governs alone.

Furthermore, it is impossible to know how committed individual respondents are to voting a particular way – or even voting at all.

Although respondents are asked "how likely" they are to vote, neither Colmar Brunton nor Reid Research take into account the effect of non-voting. In other words, no assumption is made about the probability someone will vote based on their demographic profile. This means that while their samples are representative of the general population, it is difficult to know how representative they are of the voting public.

Turnout rate can affect result
Some are a lot more likely to vote than others. For example, over-70s had a turnout rate of 86 percent in the last election compared to only 69 percent for 18-24-year-olds. It is possible that unrepresentative sampling of certain age groups might explain historic discrepancies between polling and real support for NZ First and the Greens. Last time, Colmar Brunton underestimated support for NZ First by a significant 2.3 points, while Roy Morgan overestimated Green support by 2.7 points.

The reported margin of sampling error typically means that we can be 95 percent confident a poll is no more than "plus or minus" a few percentage points from true public opinion. However, that figure refers to a result of 50 percent. In the Colmar Brunton example above, the margin of error for NZ First was approximately 1.4 percentage points. In other words, the poll was dodgy. This is said to happen five times out of 100.

But the margin of sampling error does not measure other possible sources of error such as interviewer effects and question wording. There is also the problem of how reliable those surveyed are. In 1992, after polls failed to predict a Conservative victory in Britain, an inquiry found that some respondents had probably lied about their voting intention ("the shy Tory factor"). Such effects are impossible to quantify.

However, more recent experience from Britain (2015) and the United States (2016) suggests that systematic polling error is most likely to result from assumptions regarding turnout. To a large extent, polling for the 2016 Presidential election failed to register Trump support in the so-called "Rust Belt" states because pollsters did not sample enough non-college educated white voters.

After the 2015 British general election, an independent review determined that pollsters had significantly undersampled over-70s. This was at least in part down to the use of online panels such as that employed by Reid Research to supplement its telephone sample. Interestingly, some evidence was also found that those people most likely to answer the phone were much less inclined to vote Conservative.
The elite are assuming they will just cruise in. But the times are changing. A few weeks ago you would not have seen this cartoon. The mainstream media are not talking about arsonists but global warming.
There is a reason they are now disbelieved.
While the PM was in my town, she promised we can go to "level 1′ which means contact tracing and record where you go nut events can happen — next week. Unspoken was if we behave. Not sure if that is going to happen. Because they are trying to make us better.