Since my birthday Kea and I have eaten too many carbs and the weight has increased. We came back from a long weekend break and noted the following.
I could not fit into my skinny work trousers, which are not that skinny. This matters, as I have four pairs of work acceptable trousers, and one of them is part of my suit
The budget was blown. We went through the account and the receipts (always keep your receipts). We had spent a lot on fuel, but twice that on eating out or catering.
My blood sugars had been crashing and going high
Kea's psoriasis was playing up
We were tired, irritable, and having difficulty concentrating
We were both feeling very, very sore doing exercises that should not make us sore.
So… we started hard carnivore. We are cooking in the evening for two meals and I am taking food to work for brunch. We are eating any kind of meat (yes, you can get organic meat if you want to spend over $20 per person per meal). We are eating a variety of things: my hard limit is chicken feet and fish heads, and Kea is trying to introduce me to offal.
While on a carnivore diet, you'd want to avoid anything that isn't meat. To be more specific, this means customarily classified healthy foods like fruit and veg. For most people, this will be the biggest adjustment.

You should also avoid sauces and most seasoning. Salt and pepper are fine, but the focus should be purely on meat as nature provides it.

Highly processed meat is also best avoided, and this includes a lot of sausages. Many of these products contain things like cereal, starches, and even sugar — so avoid them unless you're 100% certain it's pure meat.

Unfortunately, you also have to avoid alcohol, including beer and wine. These are very heavy in carbs and will cause all sorts of problems for your carnivore diet efforts.
Results? In a short week. Kea lost 3.9 kg and I lost 1.6 kg. The problems I had were around changing when I take medications: I used to take the morning stuff with breakfast, but not eating that I take them with the morning coffee and carry the things that must be taken with food with me and have them when I eat.
This has allowed us to feel we are regaining control and access to our wardrobe. Of course, the woke hate this. It involves meat. And it implies being fat is bad for you, which they claim will trigger.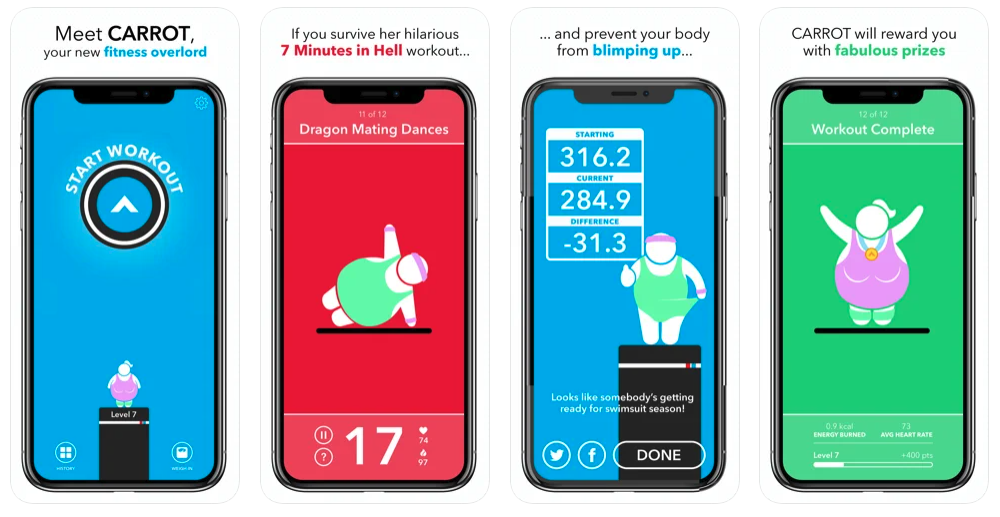 The app uses funny language such as "meat bag," threats such as "lay off the ice-cream or else," and tips such as "permission to watch your friend eat a bag of potato chips."

"The way they are addressing weight is inappropriate and scary. It's not a healthy body image, and it's irresponsible," said Gemma Oaten, who runs Seed, an eating disorders charity. She recommended the banning of the app.

"The content and language could be very triggering for an individual with an eating disorder and, in my professional opinion, should be restricted or banned," said Dr. Khanya Prince-Evans.

The app, which currently has a rating of 4.6 out of 5 stars, claims to have helped thousands of users achieve their health goals.

Most of the positive reviews say the app is "entertaining." People who like it feel it "makes working out less daunting."

The developer, Brain Mueller, referred to the positive reviews, saying, "The funny comments from CARROT turn exercising and fitness into a positive experience for users, rather than a negative one."

"The safety and wellbeing of CARROT Fit's users is my primary concern, and I have included a number of safety warnings inside the app," Mueller added.

However, the warnings are not enough, complains Dr. Dawn Branley-Bell, a psychologist at Northumbria University.

"The app does state that if users lose weight too fast, the CARROT character will get angry – suggesting that the developers have, to at least some degree, considered some of the risks. But this may not be sufficient to limit the negative psychological impact, particularly in relation to the language used in the app," Dr. Branley-Bell said.
Yeah, right. Less than one percent of the population has anorexia, outside of dance studios and acting. About half the population is overweight or obese. Most of us are feeling awful because of the standard western diet.
I'm struggling with cravings for good bread, good chocolate, good ice cream and bananas. All these are off the menu right now: one of us reacts to them. It's more important to work on skills and systems than to listen to those who are saying you should not change because there is a small risk you will get an eating disorder. Being large is a much greater risk to your long-term health.
As I have said before, the two things to add to this is do some exercise, scaling the intensity down during transition, and test yourself a few weeks later. Which means that we will aim to do Mt Iron again come Christmas.