There has been a fair amount of fallout from the government rushing changes in the tax law through under urgency last night..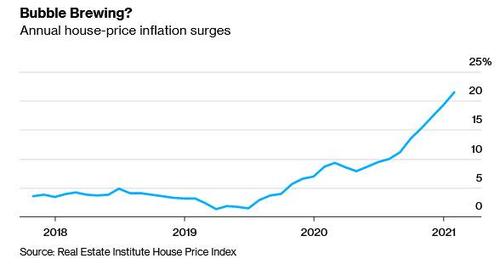 There has clearly been a bubble, but this government has not learned from Austrailia or Europe, where capital gains taxes have not changed peoples behaviour in property bubbles. These end when no one can afford the houses, and the prices crash.
While the bright-line test extension might signal a decline in 'flipping' houses, it does little to address the cause of the crisis – which is there aren't enough houses for Kiwis in need," says Leonie Freeman, Chief Executive at Property Council New Zealand.
"Today, the Government has pulled just one lever in the vast dashboard of push buttons they have at their disposal, but they have failed to address the issue of supply. Instead, they have fallen back on the previously disbanded idea of a tax on capital gains – which is effectively what the bright-line test will be – a tax on capital gains that will increase costs but do little to provide homes for everyday Kiwis.
The reason one cannot build more houses is the Resource management act, which is expensive — it will cost us as much to get certified for renovations in casa Kea as it will to get the Architect to draw up the plans — slow, and the lack of land available to build on. The government knows this, and is talking instead of having three acts. But they have the Greens as coalition partners, so all bets are off as to the effectiveness of these reforms.
Less Definitive.
The doofus here, of course, is Jacinda Ardern and her best friend Grant Robertson, who decided to remove any tax deductions for mortgage interest on home investiments. This is going to end really badly. It does not affect anyone in my close family… yet. It could affect my kids because they are at the age where they are renting and saving a deposit, and I expect their rents to go up.
The Finance Minister wants the economy to move away from property speculation towards more productivity.
A range of measures has been introduced to put the brakes on runaway house prices and help first home owners get into the market.
Westpac feels it could see house prices fall by 10 percent, and affect the wider economy.
Grant Robertson told Mike Hosking credit rating agencies say the economy has strong underlying fundamentals.
"Investment needs to be more productive and it's time we moved away from housing speculation as an underpinning of economic growth."
Robertson also rejected claims he had lied to voters during last year's election campaign when he said the brightline test would not be extended.
At that time every economist and the Treasury had advised the Government that house prices were going to fall.
But he conceded he was "wrong" to say what he had to Newstalk ZB's Heather du Plessis-Allan in September.
"I've acknowledged that I was too definitive."
House prices had changed "significantly" in the past few months and the Government had to respond, he said.
Robertson said he did not own a rental property.
Hosking said he did and he would be putting the rent up. Robertson said that was his choice and that rental prices were affected by many factors.
Westpac had predicted that the housing changes would affect the wider economy but Robertson said a greater risk was that the housing bubble would burst.
As a wag said yesterday, next time I'm caught lying I will say that I should have been less definitive. This will enter the lexicon real quick.
NZ made Zero Hedge
I've cut the article down a bit, but as expected the Kiwi has gone down basically immediately.
One month after the New Zealand government took the historic step of adding a fresh mandate to its central bank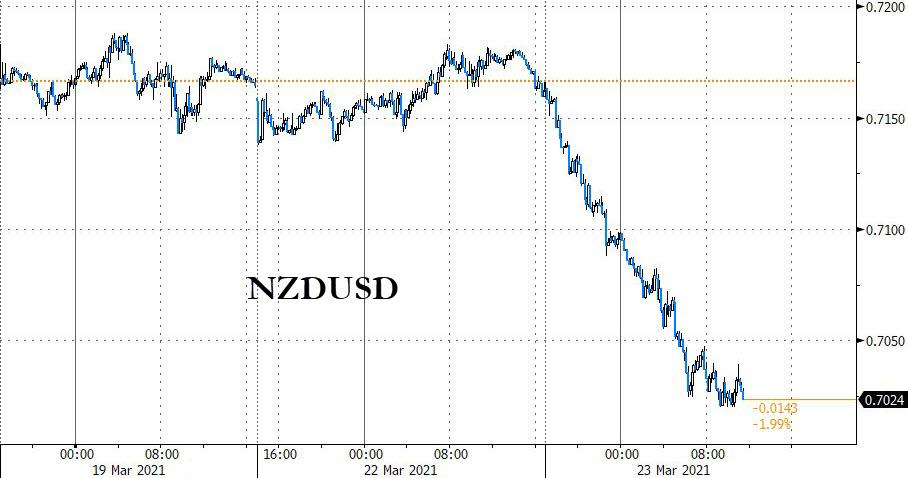 I would make some Venezuela jokes but they are suddenly not funny.
Update
Westpac, which predicted a 10% decrease in housing prices yesterday, today is hit with a Reserve Bank NZ notice saying that its governance needs external review. They could be gone. Of note, Westpac is the NZ government's banker.
In a statement to the NZX shortly before closing today, Westpac said it's been "actively considering the businesses we operate in".
Employing 4500 workers in New Zealand, the business is the nation's third-largest bank.
"Westpac is also assessing the appropriate structure for its New Zealand business and whether a demerger would be in the best interests of shareholders," it says.
"Westpac is in the very early stage of this assessment and no decisions have been made."
The bank has been involved in New Zealand for around 160 years, it says.
Earlier today, the Reserve Bank of New Zealand (RBNZ) ordered two reviews of Westpac New Zealand after finding it breached liquidity requirements between 2012 and 2020.
"Westpac NZ needs to take a close look at its risk governance practices," Reserve Bank deputy governor Geoff Bascand says.
"We have experienced ongoing compliance issues with Westpac NZ over recent years, most recently involving material failures to report liquidity correctly."
The decisions around a sale would "consider the impact" of the announced reviews, Westpac says.
"However, given the changing capital requirements in New Zealand and the RBNZ requirement to structurally separate Westpac's NZ business operations from its operations in Australia, it is now appropriate to assess the best structure for these businesses going forward. Westpac will provide further updates as required."
My question is, if they see a housing crash, if they are getting out while their mortgage portfolio has value. We have seen this before.