This one is for Peter Grant. NZ needs to export to pay for things we like, such as a functioning welfare system and defence force. Sadly, we also pay for things I personally think we could do without, mainly all the woke things coming out of Wellington's inflated number of civil servants.
But at present we can't get goods for export out of the country. From Red Radio:
Hawke's Bay growers and seafood firms are concerned over produce getting to market as New Zealand's supply chain to the rest of the world remains critically constrained.
Exporters are no longer able to make forward freight bookings between Australia and New Zealand as international shipping companies abandon the relatively remote and marginal trans-Tasman routes in favour of profitable routes between China, Europe and the United States.
"Our expectation remains that the disruption to the New Zealand supply chain will remain throughout the export peak season," Maresk Oceania head of market Therese Blank said.
The company had recently made a significant investment to expand its service in New Zealand, with the addition of a seventh ship to support its Southern Star Service, she added.
However, she said the problem facing New Zealand was not just from a shortage of ships.
"We are also experiencing impact from port congestion at overseas ports, impacting on time arrivals to New Zealand ports as the vessels are delayed," Blank said.
"There is so little space now that ships won't take forward bookings," head of industry development and policy at the The Australian Industry Group Louise McGrath said, adding worse was yet to come as peak pre-Christmas price surcharges were expected to rise from $500 to $5000, over an above the already inflated shipping costs.
Australian Export Council chairperson Dianne Tipping, who was also an exporter, said she was finding it difficult to ship goods to New Zealand.
She said exporters were experiencing a cash flow crunch, as their goods were stuck in warehouses and unable to get to market.
Tipping said New Zealand and Australia were in the same boat and thought they would be better off working together to lobby their governments to find solutions.
"I think it'd be a really opportune moment for both of our governments, New Zealand and Australia, to look at how there might be some initiatives that they can work together on to try and come up with a plan to put some extra vessels in the system. But again, that's not going to happen in a month," Tipping said, it would take months to plan.
In the meantime, the underfunding of the health service is curdling now people are less worried about COVID. The government decided to pay freeze anyone in the state sector earning over 60K. That includes all nurses working in district health boards. Which is a the majority. They did not see this as kind.
Again, from Red Radio. The Kiwi Taxpayer's dollars at work.
Cheryl Hammond, a nurse of 43 years, works in the Bay of Plenty. But she said she feared for the future of her profession.
"I want to make sure that anybody that comes is going to do their 43 years in nursing.
"But I can't see that happening because the people that are coming in at the moment aren't staying, because of the pressures, the workload, because of the shift work.
"They're tired, they're exhausted."
She said over the past six years in her job, her workload had doubled, as more demand was put on their services.
But over the same period, she said they had not recruited additional staff. Pay had never been adequate, she said.
"I worry about the new grads.
"They come in with 30,000-40,000 debt, and only earn just between 50,000 and 60,000 when they start. And then they've got debts and families to support."
She will be involved in tomorrow's strike.
"It's one thing I really do not want to do, but if it's the only way we're going to get an improvement, it's the only thing we can do."
From the Cat. Note that Australia is doing better than most of the G20. We are now in a depression.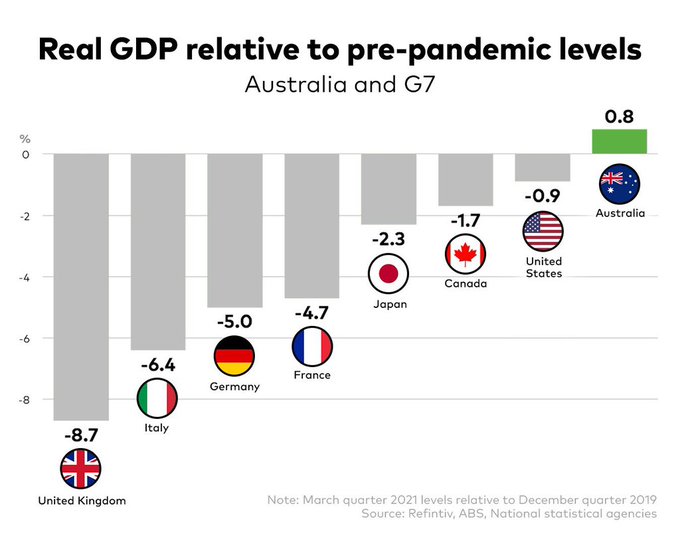 Our reserve bank assumes 4% growth. Not sure what they are basing this on apart from wishful thinking.
While we are on stupidity: I hate the mandated masks we have in a country without COVID. Because our leaders are as illogical as these American idiots.
That's enough for today. Mondays are not good, and when they are on Tuesday they are worse.