I showed Kea a recruitment offer this morning. As NZ becomes more stressed and the mandates for vaccinations are more tight than in OZ, it becomes more attractive. Yes, Oz is a jail due to COVID. But we already have Auckland as a Gulag. You do get paid a lot better over there.
From the doctors union: you wanted our support on the mandate, now we want recompense.
The Health Minister Andrew Little said this week that health workers should feel assured that the pressure they are under, is not unnoticed.

"When you've been offered a zero percent pay rise, which effectively amounts to a pay cut, and no prospect of better staffing and conditions, those words seem very hollow," says ASMS Executive Director Sarah Dalton.

The senior doctor workforce is fatigued and demoralised as it juggles entrenched staffing shortages and overstretched services, alongside the immediate threat of Covid and resulting patient backlogs.

ASMS and DHBs are due to go into mediation next month over stalled collective contract negotiations for senior hospital doctors and dentists.

ASMS is asking for a very modest pay rise to simply reflect cost of living increases, but DHBs have continued to come back with a zero offer.

"Employer gratitude should not equal pay restraint, especially at a time when our doctors, who work tirelessly for the public health system, are being asked to step up, cover staffing gaps, work longer hours and make personal sacrifices to keep their patients and their families safe during Covid," Sarah Dalton says.

Australia is reportedly set to allow 2,000 overseas doctors and nurses into the country to ease a healthcare staffing crisis there.

"With specialists earning up to 60% more in Australia, it's a very promising option. We've had members writing to us saying they are being regularly targeted by Australian medical recruiters offering to double their current salaries".

"Our doctors are keeping New Zealanders safe and holding our health system together. The Government needs to show senior medical and dental specialists the same commitment and give them a reason to stay," says Sarah Dalton.
I know that this quote from Yeat's Second Coming is now a cliche, but there are reasons for it. The centre is not holding.
Turning and turning in the widening gyre
The falcon cannot hear the falconer;
Things fall apart; the centre cannot hold;
Mere anarchy is loosed upon the world,
The blood-dimmed tide is loosed, and everywhere
The ceremony of innocence is drowned;
The best lack all conviction, while the worst
Are full of passionate intensity.
The government is doubling down on compulsion. They intend to acquire all the wastewater and reticulation systems from councils, with limited compensation, and refuse to take the debt associated with this. No council has agreed with this.
Three Waters is the Government's plan to establish four publicly-owned entities to take responsibility for drinking water, wastewater and stormwater from local councils.

The reforms stem from Havelock North's outbreak of gastroenteritis in 2016 when four people died and 5000 became ill, as well as drought in Auckland and old pipes bursting in Wellington.

The proposals have faced opposition from local councils, including big players like Christchurch and Auckland, over concerns about losing control of their water assets and uneasiness about the new management structure.

But Mahuta isn't backing down, because it's estimated New Zealand needs between $120-$185 billion spent on water infrastructure over the next 30 years to meet standards and provide for future population growth.

"I will be introducing legislation to progress the establishment of the entities. The select committee process will provide an opportunity to get public feedback on the reforms," Mahuta said in an update on Wednesday.

"The case for change is too compelling to ignore. It is clear that without the establishment of these publicly-owned entities we will continue to see a frail network and contaminated water in many communities. To delay will only push the problem on, increase future household costs and put livelihoods at risk."

National MP Christopher Luxon has long speculated that the Government would force councils into line by legislating the reforms.

"National has been on the record for months warning that a forced, legislated approach is inevitable," Luxon, National's local government spokesperson, said last month.

National and ACT have both promised to roll back the reforms if elected in 2023, but Mahuta insists they are necessary.
This is leading to another division: the Maori elite, who want control of water so they can ensure all pay them tribute, and the rest of us. The government has already divided the vaxxed against the unvaxxed: the mudbloods now hate the pureblood.
Kiwi singing legend Sir Dave Dobbyn has come out in support of the Covid vaccine – but says the fight should be against the virus, not people.

The 64-year-old has taken to Facebook to express his views and to declare his own vaccination status.

"I am double vaccinated. I encourage it for everyone. But I call out the unkindness directed at those who haven't yet taken the step."‌

He ended the post, shared late this morning, with the hashtag: "Fight Covid not humanity." …

Responding to a tweet by writer Hamish Keith, saying the unvaccinated will feel isolated and picked on and "so they bloody well should", Dobbyn said: "I thought we're fighting Covid, not humanity."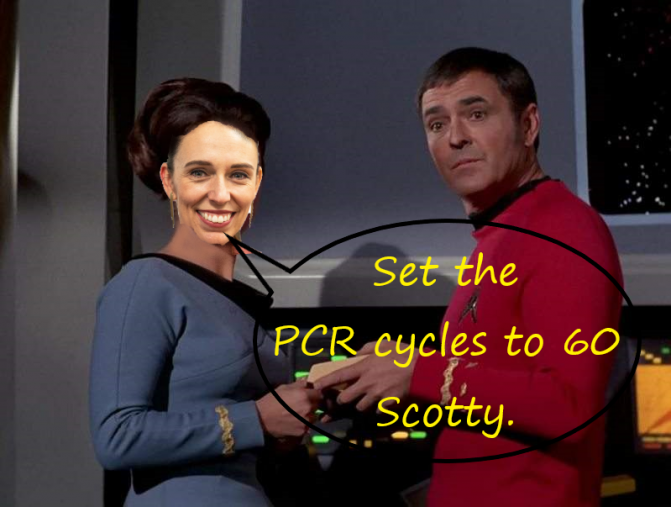 At present, we need to choose our battles. Cam Slater, reflecting three years after a stroke caused in part by his activism and legal cases.
That last thing I will leave you with that is pertinent to these dark, tyrannical times we are all facing, is that sometimes it is best to just let things go. It's hard and it has taken me several years to get there.

Many of you want to fight this government and that is commendable but as Sun Tzu says: "however desperate the situation and circumstances, don't despair. When there is everything to fear, be unafraid. When surrounded by dangers, fear none of them. When without resources, depend on resourcefulness. When surprised, take the enemy by surprise."

Add to Napoleon Bonaparte's maxim: "Never interfere with the enemy when he is in the process of destroying himself". For that is surely what Jacinda Ardern is now currently doing by mandating forced medical procedures, introducing draconian internal borders and the modern equivalent to 'show us your papers', along with abrogating democracy by ramming through the confiscation of council assets. Let them make these mistakes, because every single action they are currently taking is negatively affecting their re-election prospects.

You can't stop it anyway, because they have a majority. You don't have to accept it but realise that you can't stop it …… yet. Patience is now a virtue. Just let it play out. Keep your powder dry. Just let it go. Their time is at an end. It is a long way to the next election and soon enough people will realise that they are the ones destroying this country.

Just let it go. Do not fear, be strong, we will prevail.
In the meantime, the wheels are falling of the elimination strategy. The South Island has now three cases after 300 days COVID free. The press still thinks the vaccine is a shield against getting infected. Hipkins is economical with the truth.
Covid-19 Response Minister Chris Hipkins is expecting to receive a public health risk assessment on the cases later this morning, which will allow a quick decision about a potential lockdown, possibly at today's 1pm briefing.

The two cases are from the same household, are not vaccinated, and their use of the Covid-19 Tracer app has been low.

They have been in Christchurch for up to a week after one travelled back from Auckland. They had a negative test result prior to that travel as required but later tested positive.

At this stage, there are no other known household contacts for the pair.

Hipkins told Morning Report "The nature of their contacts in Christchurch will be established during the morning and then we'll have a bit more information to share, but you know, these cases came in quite late last night.

"My understanding is that they've been unwell for a while so they could have been symptomatic and infectious for a period of time whilst back in Christchurch and so that's one of the things that the contact tracers will be working on as a as a top priority this morning – to identify exactly what the nature of the potential exposure in Christchurch is."

It was not yet clear how many locations of interest there might be.
The government has left Christchurch at level 2. This is inconsistent with putting Auckland in Level 4 then keeping it at level 3 for 10 weeks. But the government has given up on containment, and is instead trying to bully everyone into getting the vaccine. I have received emails from my bosses saying that the conscience clause will not apply: the vaccine is mandated. Despite their own regulations.
No one believes the government. No one trust the government. My friend Mick said that this is akin to Human building his gallows. I think it is much more like the end of Mussolini or Ceaeusescu. The centre has not held. There is a Panem. And there is, at least in our most elite cities, a hunger games, to motivate the technical class to remain attached to Panem, and mimic the elite.
For the worker bees of Silicon Valley — rich beyond the wildest dreams of the workless and hiveless bees out in flyover country, weeping over their children's Happy Meals — San Francisco is the big city hive, the center of their universe, the place where all the honey is stored. Yet the sidewalks outside San Francisco's fabulous restaurants, where honey is dispensed, are littered with the human equivalent of dung beetles. But what is the insect kingdom without diversity?

Likewise, Seattle, home-base of Bill Gates's Microsoft and Jeff Bezos's Amazon, celebrates especially the diversity between stupendously wealthy creatures of the board-room and the filthy, reeking scavengers of the bottoms and margins, huddled in their miserable tent encampments under the freeways in Seattle's eternal rain. At least those poor creatures get to stay zonked on fentanyl so they don't suffer so much when the sandflies chew their snouts off.

Has America begun to wonder: is all that okay? And if it's not okay, what about the people who are keeping it not okay? Do they get to remain in charge of the institutions that exist to regulate okayness? This is the quandary America finds itself in, starting with the head-of-state who, in the proverbial sense, has no clothes, and from him running through all the sub-heads-of-state such as DOT Secretary "Pete," Homeland Security chief Alejandro Mayorkas, Attorney General Merrick Garland, new four-star admiral Rachel (formerly Richard) Levine — in charge of the HHS Public Health Service (including mental health) — and Dr. Tony Fauci, as pesky and eternal in the nation's public life as the sandfly of the Tunisian littoral.
There is a very high chance I will be kicked out of the technical class within the month. We have planned all options. But we don't know what will happen. There are two things we can do: we can pray. And we can make sure we are not like them.