Inflation
Six days to go
The good news is that telemedicine is allowed. The NZMA has produced this…
Saying they were the parties responsible for the law changes. Again, in the email box.
The NZMA recently raised concerns with Ministers Hipkins and Little and the Ministry of Health regarding the loose process and lack of clinical guidance for granting exemptions to workers who are required under the Public Health Order to be vaccinated.

Amendments have now been made to the Order and only the Director General of Health can grant an exemption. The application for exemption must be made by a registered medical practitioner or nurse practitioner on behalf of the patient.

For more information on the required process and clinical criteria please go to the Ministry of Health website.

Please find attached the exemption process flow chart and the clinical criteria and guidance.

A further amendment to the Order will allow the option of unvaccinated registered health practitioners who do not provide services in person to continue to work e.g. providing telehealth services.
The trouble is that it is not going to stop with two vaccines. It will continue. The mRNA !vaxx does not work. Far better to get natural immunity or a classic vaccine — they are being considered for registration right now. Vox Day is scathing.
Congratulations to the newly "unvaccinated" Brits who have only received two of the now-required three killshots. #vaccines

"British travellers who fail to take their booster jabs face renewed restrictions, The Mail on Sunday can reveal. Plans to reimpose quarantine and testing for those who have refused their third vaccine are currently being drawn up by Ministers to protect the UK against the spread of new coronavirus variants. The move would change the definition of 'fully vaccinated' from having had two jabs to three."
The next day
Quite soon, adults who haven't got the vaccine won't be able to:
– Work in ~40% of jobs
– Fly our main airline internationally
– Fly our main airline domestically without a negative test
– Go to large festivals
– Attend any event where the host decides to discriminate

— henry cooke (@henrycooke) November 8, 2021
When the Northland Maori could not join the Hikoi they blocked the road. The Police do not like this.
Protestors vehicles being towed at Te Hana (Auckland/Northland border) checkpoint rn pic.twitter.com/ga01DZVFT2

— Gloria Wms Hawke (@caniwi_nz) November 8, 2021
Demonstrations are planned and being reported.
Balclutha's streets will echo to the sound of motor-driven protest once again today.

Several dozen tractors and supporters are expected to rally in the South Otago town at lunchtime, in an effort to raise concerns about the Government's expanding mandatory Covid-19 vaccination policy.

The protest is organised by Owaka Valley dairy farmer Michael Magiera, who said he had been spurred to action by news he received last Monday regarding an internal mandatory vaccination policy review at Farmlands Co-operative, of which he is a shareholder.

Mr Magiera said he understood Farmlands was considering firing staff who chose not to get vaccinated.

He believed vaccination should be a matter of personal choice, without penalties attached.

At present, according to Government regulations, only medical workers must be be vaccinated.
No quite right. It includes border workers and teachers, and medical workers who see patients face to face. There are consequences.
Matiere School is one of several rural schools warning they won't be able to replace teachers and other workers who refuse to get their first injection by the Monday deadline.

The school's principal Vanessa Gotz told RNZ her school had three teachers, three support staff and a relief teacher and none were vaccinated.

She said none her staff intended to get vaccinated by the Monday 15 November deadline so they would not be allowed at work on Tuesday.

"Some of it is because actually medically they are unable to have it, and the other reason is really we're being forced. We're feeling like we're forced out here, that here we are on the 15th not vaccinated, 16th – hang on a minute you can't be in front of a class, you can't take students," she said.

Gotz said none of the school's board of trustees were vaccinated either.

She said she was not opposed to getting the vaccination herself, but as the only fully registered teacher she had not been able to take time off to get her shot.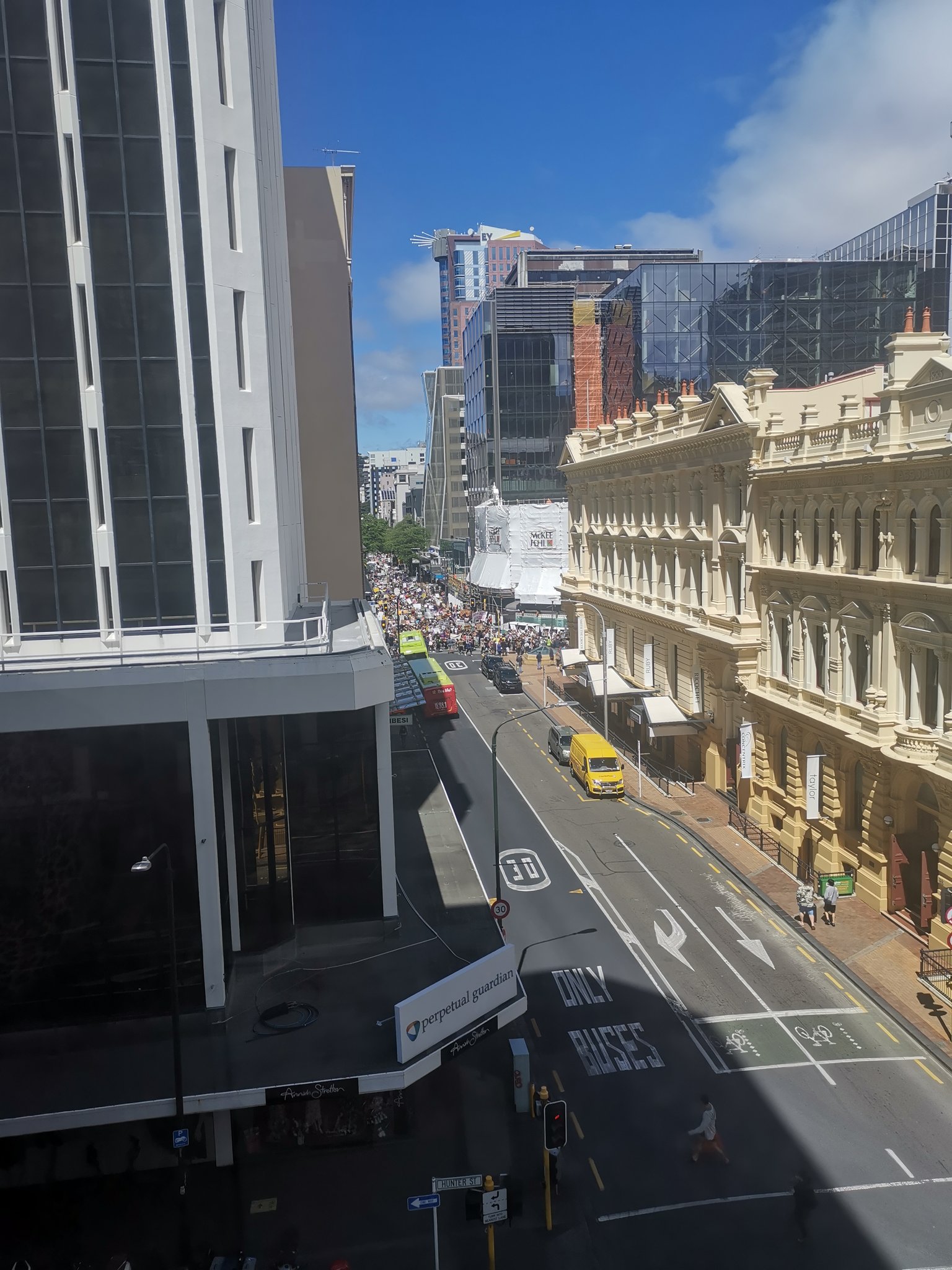 Thousands of protesters have brought Wellington's CBD to a standstill as they march to Parliament in a challenge to Covid restrictions.

A group of around 100 motorbikes has now arrived at Parliament, followed by protesters shouting "freedom now!"

Those in the crowds include young and old, and a diverse mix of ethnicities. Protest signs range from anti-vaccine to "Trump 2020", alongside tino rangatiratanga and United Tribes flags.
Addressing media this afternoon Ardern said the protests were not representative of the majority of Kiwis.

"I think they can see from what we've done is on behalf of everyone," she said.

Ardern referenced the "Enough is Enough" protest in how Parliament had seen protests over the years but she maintained it was not representative of the majority of Kiwis.

Associate Minister of Health Dr Ayesha Verrall said on Twitter she saw the protest from the Beehive.

"We will vaccinate more people today – in just one day – than turned up to that protest," she said.

On the threat of a great gridlock on Friday which was threatened by today's protesters, Ardern said her job was to focus on the more immediate shifts in alert levels and transition into the traffic light framework.

The Freedoms and Rights Coalition marched to Parliament this morning to present its demands, which include an end to Covid restrictions and vaccine mandates.

Around 11.45 a group of around 100 motorbikes arrived at Parliament, followed by thousands of protesters shouting "freedom now!"

The crowd include young and old, and a diverse mix of ethnicities. Protest signs range from anti-vaccine to "Trump 2020", alongside tino rangatiratanga and United Tribes flags.

Those in the crowds include young and old, and a diverse mix of ethnicities. Protest signs range from anti-vaccine to "Trump 2020", alongside tino rangatiratanga and United Tribes flags.

RNZ reported around 12.30pm that Parliament's grounds were full to the brim, and speakers were addressing the crowd.

"I didn't come here for a picnic. I came here because you have a habit of not listening to the people," one speaker said.

The speaker said he hoped the Prime Minister was scared.

Another speaker said Jacinda Ardern had "trampled on the rights of New Zealanders".

Insults and tennis balls have reportedly been hurled at media.

Act Party leader David Seymour said the Government had antagonised people as much as some of the protesters outside by issuing vaccine mandates.
Seymour said he hoped as many people as possible would get vaccinated but people should still be given choices.

"I don't fear those people. I fear for them," Seymour said when asked about the crowds outside.

Earlier, Rewi Hare of Destiny Church addressed the crowd, saying people have gathered from "top of the North Island to the bottom of the South".

He praised the "brave" Brian Tamaki for "standing up to the Government", to loud cheers.

Wellington City Council earlier advised that traffic was expected to be disrupted in the city centre and people should expect delays after 10.30am.

Parliament's Speaker Trevor Mallard said security had never been as tight as it was today.

He said the Parliament grounds were crawling with police and security and all entrances apart from one had been blocked off.

National Party leader Judith Collins also said she had never seen so much security, but hoped the protests would be peaceful.

Parliament's main entrances are all locked down and some protesters have set up ahead of the main march arriving.
It is clear that the government is not going to listen. This is going to end badly.