Adam Piggott's post about taking the entire network of progressive power down is now in mulitiple places including the Cat. I have found the comments in various places interesting. The Cat is more mainstream, and people want to move gently. XYZ wants the political class to hang. Good on Adam: the traffic is up here.
What really got me this morning, to the point where the Lectionary post took considerable time to finish, was that the government lies on accepting advice. The government is doubling down. Despite more warnings about the risks of the jab.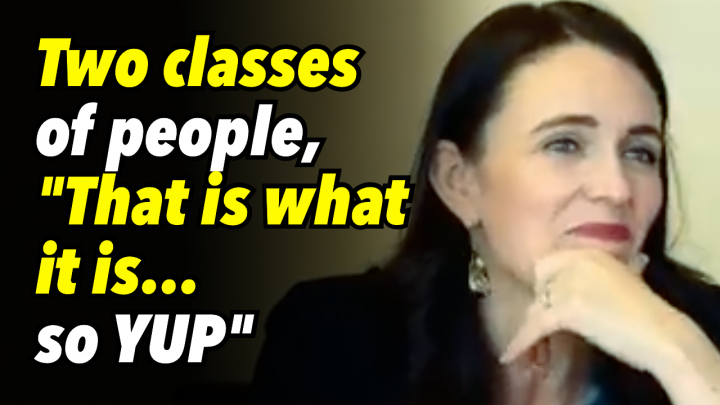 The Government went further than official advice to keep COVID-19 vaccine passes "narrow in scope" and only apply to high-risk events, documents show.

In a briefing paper dated September 17 to Prime Minister Jacinda Ardern and COVID-19 Response Minister Chris Hipkins, officials provided three options for the domestic use of vaccine certificates (CVCs).

The first option, A, was the wide application of vaccination certificates, which "could be for customers and/or workers of bars, restaurants, cafes and other venues/events".

The second option, B, was the targeted application of vaccine passes for high-risk events and venues, such as "large gatherings/events held outdoors and indoors, particularly during the summer season".

The third option, C, was no government requirement for vaccine passes, and to instead let the private sector decide who can access their premises. It's noted the Government could play a role in providing verification.

The document, released on Friday, shows the Government went further than the official advice, by going for option A, evident by the requirement for widespread use of vaccine passes in the new traffic light system.

Officials recommended option B – only applying vaccination passes to high-risk large events and venues; not bars, restaurants and cafes.

"Officials initially consider that the targeted application of vaccine certificates to high-risk events and venues (Option B) provides the best balance of risk mitigation, public acceptability and feasibility to implement as a priority step," the document says.

The Government was warned that going too far with vaccine certificates would risk social cohesion, due to restrictions on the unvaccinated.

"There is a risk that restrictions on where unvaccinated people may go could negatively impact the trust that has been built around the COVID-19 vaccination rollout and to address vaccine hesitancy that is linked to a wider mistrust of the health system."

In another document dated September 24, similar concerns were raised by officials about COVID-19 vaccine certificates.

"There are issues around maintaining social licence over the management of the pandemic and social cohesion. Over time, this measure may no longer be justifiable as vaccination rates increase and the public health rationale becomes diminished."

"Public health advice is that CVCs should be used as a temporary requirement for entry to large high-risk events or venues to reduce the risk of large outbreaks and community spread and should be reviewed in relation to vaccination rates."

"Experience overseas demonstrates the risk of loss of social license if a CVC is applied too broadly, in a way that is seen as interfering too much in day-to-day affairs. It also has the potential to deny access to everyday services to people who are legally exercising their right to not be vaccinated. For this reason officials propose that any mandatory requirements are narrow in scope."
The same bastards are softening up vaccines for kids, banning coffin sticks (cigarettes) which are legal… and in the process they will be oppressing minorities. The Spectator OZ notes that our progressive ikon has gone full moron.
It is a curious irony that the West's leading progressive icon is probably the most authoritarian leader in the free world today. Since sweeping to power in 2017, the New Zealand prime minister has been repeatedly lauded by the London intelligentsia as the ideal model of a liberal, centrist premier. This is despite the blessed Jacinda's stock response to every public policy crisis being to restrict or ban the offending phenomena in question. After Christchurch it was guns; for Covid it was lockdowns, with bans on the unvaccinated. Now Ardern has stumbled onto the solution to smoking: why not simply ban cigarettes?

Today her government has announced that it will outlaw smoking for the next generation, so that those who are aged 14 and under today will never be legally able to buy tobacco. New legislation means the legal smoking age will increase every year, supposedly to create a 'smoke-free generation of New Zealanders.' Ardern's apparatchik, health minister Dr Ayesha Verrall, has heralded the news as 'a historic day for the health of our people' with the country's daily smoking rates dropping over time – down to 11.6 per cent in 2018, from 18 per cent a decade earlier.

Yet despite the chorus of delight from public health experts – with one declaring 'all my wishes have come true' – even that is not enough for Verrall, who has now turned her guns on the smoking rates of the country's ethnic minorities. Smoking rates for Māori and Pasifika are 29 per cent and 18 per cent respectively, with the minister warning that: 'if nothing changes, it would be decades till Māori smoking rates fall below five per cent… if we don't change what we're doing, we won't make it for Maori – and that's [what] the plan is really focused on.'

Mr S can't help but reflect that it seems somewhat unedifying for ministers to effectively declare a public health war on traditionally persecuted minorities in a former colonial state. And that's to say nothing about the proposal's blackmarket potential, with Ardern's administration itself admitting that 'the amount of tobacco products being smuggled into New Zealand has increased substantially in recent years and organised criminal groups are involved in large-scale smuggling.' Whoops.
The government is running scared, and they have instructed the police to monitor any blog that has been right wing. The previous iterations of this blog did get some attention: when a judge suppressed the name of a man convicted of murder (now dead) I did not redact the post I had completely. Kea has been double checking things ever since. But I'm small fry. Cam Slater is the fourth most read site in NZ, and he has some policemen after him.
Detective Inspector Kevin McNaughton was dead right when he thought that this might end up on the front page. It should be on the front page when Police are using clear political bias to surveil members of the free and independent media for daring to criticise the Government of the day.

Not even Robert David Muldoon was this craven in his pursuit of his perceived enemies. This Official Information Act reveals that Police and their intelligence units are "scanning and targeting" political opinions, and marking people and their organisations as suspect dissidents who "warrant a visit".

It is sinister, it is evil and dare I say it is illegal. Every journalist in this country should be up in arms, but they won't be, because they too have been bought and paid for by this corrupt Government.

It can only be by a Government directive, after all the Prime Minister is on record of saying that "misinformation" is a concern, which is why they've funded the corrupted media to tell her "truth"
They have gone full Stasi. They have been warned. And they will own the consequences.

Ardern's self styled 'Team of five million' is irretrievably shattered.

In a country where its the vaccinated vs the un-vaccinated with the latter cohort afforded second class citizen status.

In a country where its Maori vs non-Maori per courtesy of He Puapua implemented by stealth.

In a country where personal responsibility is a dirty word.

In a country where its town vs country and where farmers are unjustly demonized as destroying the environment.

In a country where enterprise and success takes second place to income redistribution.

In a country where criminal gangs are afforded special status over law abiding citizens.

In a country where parliamentary democracy is a sham paid lip service to by a government increasingly wedded to ruling by decree.

And a country where its not going to get any better anytime soon.
It will not end well. God defend New Zealand. Our enemies are in government, and we will not be able to get them out by obeying their diktats.